En el laboratorio se combinan las actividades de innovación para el desarrollo de productos de alto valor añadido y el servicio analítico a nuestros clientes que complementan nuestras soluciones para maximizar los resultados.
+ 25,000 samples         +145,000 determinations
Innovated equipment and high-qualified professional team for:
Microbiological analysis in raw materials, feed and other matrices
Mycotoxin analysis. Detection and quantification in feed and livers (through biomarkers)
Oxidative stability analysis
In vitro evaluation of product efficacy and corrosivity​
Metagenomic analysis for microbiota study​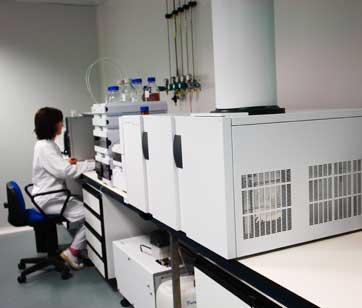 The laboratory combines innovation activities for the development of high value-added products and analytical service for our customers to complement our solutions and maximize the results.
+ 25,000 samples          +145,000 determinations
Innovated equipment and high-qualified professional team for:
Microbiological analysis in raw materials, feed and other matrices
Mycotoxin analysis. Detection and quantification in feed and livers (through biomarkers)
​Oxidative stability analysis
In vitro evaluation of product efficacy and corrosivity
Metagenomic analysis for microbiota study​